This is not your typical physical therapy practice. At El Paso Manual Physical Therapy we pride ourselves in making sure that your PT care is one-on-one, evidence based and done conveniently in the privacy of your home or in our clinic. A holistic approach is taken with every patient so that the root of the problem is identified and addressed. Our brand of treatment is manual therapy based and may include joint mobilization or manipulation depending on your needs. Your care is guaranteed to be focused, always one-on-one with a physical therapist, with no overlapping appointments. EPMPT will even come to your home and tailor your therapy care and exercises to fit your needs. EPMPT is committed to making sure you get better faster than all other typical physical therapy clinics.
EPMPT was formed out of a need to provide the best care possible to patients seeking physical therapy care. We are a private pay practice because we believe that the care you receive should be the best.  The care you will receive cannot be provided at an insurance based clinic. Insurance companies have historically reduced reimbursement rates to physical therapy providers causing most practices to have assistants that perform treatments while increasing the amounts of patients seen per hour in an effort to stay in business. This creates a situation where patients only see the PT for a brief time and then have their therapy treatments supervised by someone else other than the physical therapist for the rest of the treatments.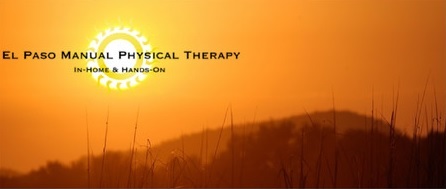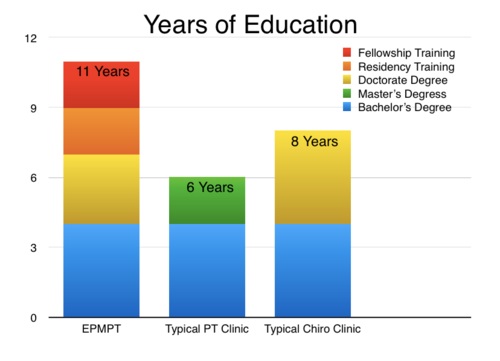 Years of Eduction & Training Levels at EPMPT vs Typical PT Clinics
Your care with EPMPT will be always be one-on-one with a licensed doctor of physical therapy that is orthopedic fellowship trained. Our physical therapists are highly skilled in manual therapy and identification of movement disorders. Your hands-on care will be current with the best available scientific evidence. Our patients will feel better in less visits than patients treated at typical clinics. We promise to be upfront and clear about our results and how long you should expect until you are better.
Some differences you can expect from EPMPT treatments are that we firmly believe that our hands and eyes are the most important tools we can use to help make you feel better. We spend careful time doing diagnostic movement tests and hands-on tests to feel what tissues in your body may be affected. There is no wasted time with the therapist using passive modalities (such as electrical stimulation and ultrasound) that have little to no benefit. Current research for ultrasound therapy shows that the effect of treatments were less effective than the placebo treatment tested against it.